Pasta and cheese are two ingredients that go perfectly together. However, making cheese pasta is not as straightforward a process as it may seem. In fact, you need to know a couple of tricks and use targeted ingredients to prepare a perfect dish, just like cheese on macaroni!
Ingrediants
Pasta
450 g of pasta
4 l of water
1 tablespoon of salt
1 or 2 teaspoons of oil (recommended)
Sauce
350 ml of milk (semi-skimmed or whole)
2 tablespoons of all-purpose flour
200-300 g of cheese cut into strips
½ teaspoon of salt
A pinch of mustard powder
A pinch of pepper, garlic, or dried herbs (optional)
Additional ingredients such as bacon, broccoli, ham or peas (optional)
Steps
Part 1 of 3: Cooking the Pasta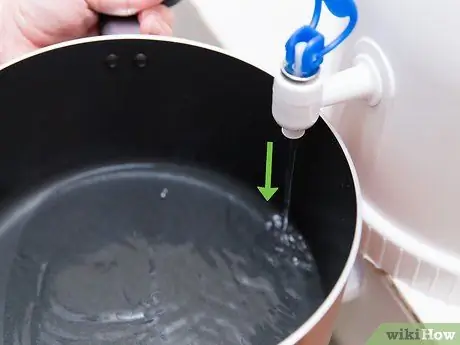 Step 1. Take a large pot and pour 4 liters of water into it
This recipe makes it possible to obtain 4 or 6 pasta dishes. If you want to make less, cut the doses in half. Alternatively, keep leftovers in the fridge - you can keep them for about a week.
If you want to add other ingredients, such as ham or peas, start preparing them now, as they will have to be cooked already when it is time to season the pasta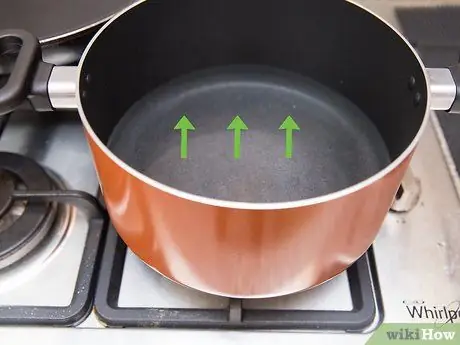 Step 2. Put the pan on the gas
Turn the heat to high and bring to a boil. To save time, start making cheese sauce. By cooking the sauce and pasta at the same time, you will finish earlier.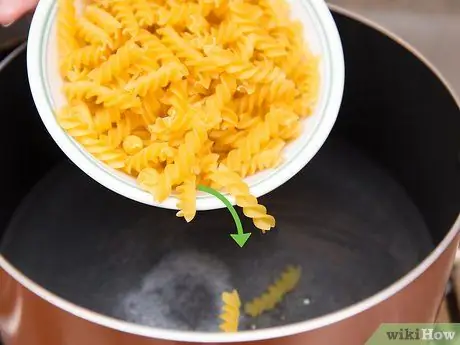 Step 3. Pour 1 tablespoon of salt into the water and cook 450 g of pasta
You can use whichever you prefer, but the processed pasta (such as spiral fusilli) holds the sauce better. You can also add 1 or 2 teaspoons of cooking oil to prevent sticking.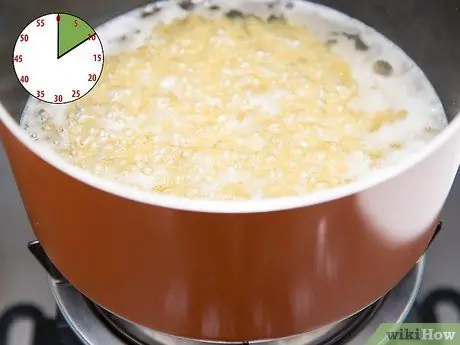 Step 4. Cook the pasta al dente
Generally, the package indicates cooking times, which can vary between 8 and 12 minutes.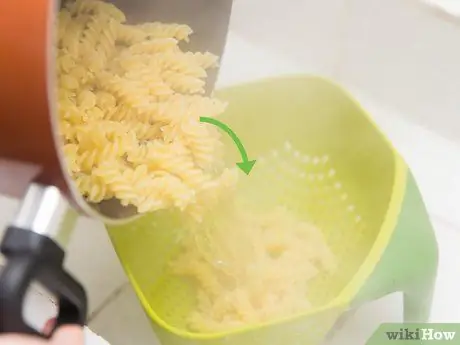 Step 5. Put a colander in the sink
Remove the saucepan from the heat when cooked, then pour the contents into the colander.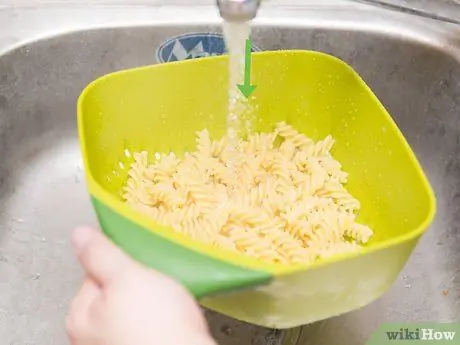 Step 6. Drain the pasta, leave it in the colander and wet it with cold water for a few seconds, in order to interrupt the cooking process and prevent it from becoming soggy
Beat the colander to remove excess water and set the pasta aside.
Part 2 of 3: Making the Salsa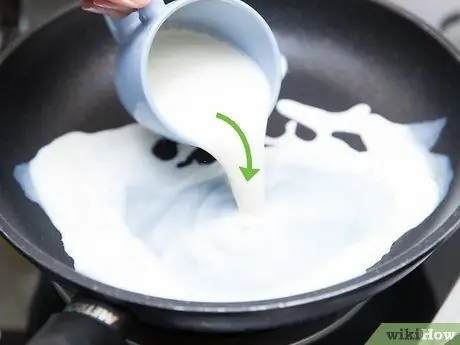 Step 1. Heat 1 cup (250ml) of milk in a saucepan over medium heat
The remaining milk must be added later.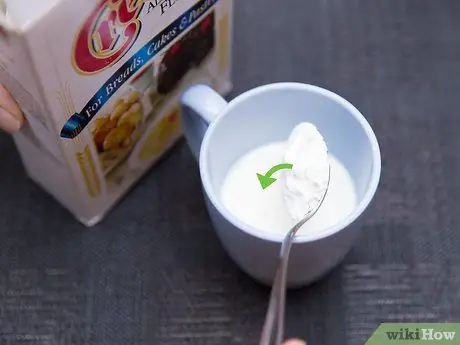 Step 2. In a separate bowl, mix ½ cup (120ml) of milk with 2 tablespoons of flour
Whisk until all lumps are removed.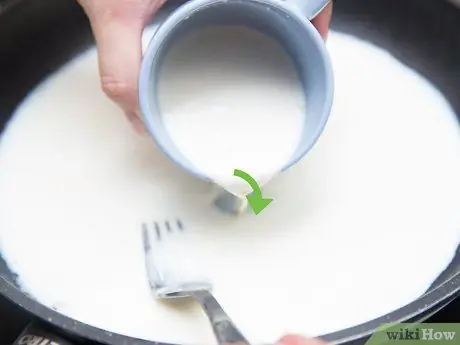 Step 3. When smoke starts to come out of the pot, stir in the flour and milk mixture
Stir with a whisk.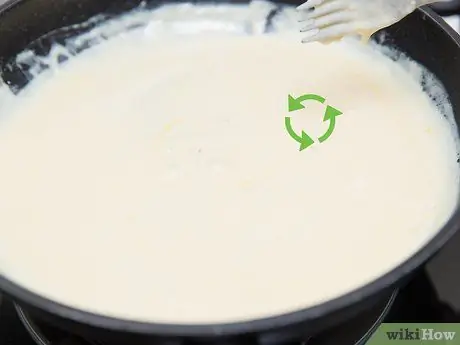 Step 4. Whisk until the milk has begun to thicken
You should get a thick, creamy consistency. It will take 3 to 4 minutes.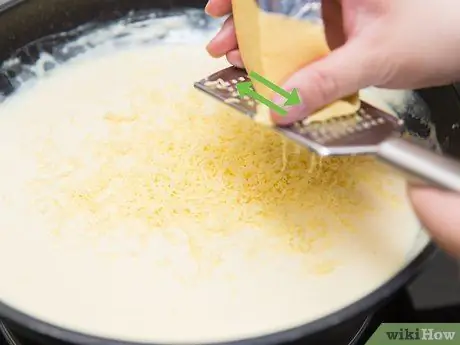 Step 5. Lower the heat to low, then add 200 or 300 g of cheese cut into strips
You can use whatever you prefer, such as Cheddar, scamorza and provolone. If you have decided to use a hard cheese, such as pecorino or parmesan, be sure to grate it finely to make it easier to melt.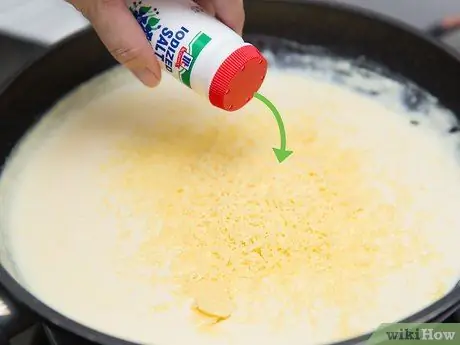 Step 6. Once the cheese has been incorporated, add ½ teaspoon of salt and a pinch of mustard powder
For an even tastier pasta dish, add a pinch of pepper, garlic powder, or dried herbs (such as oregano or basil).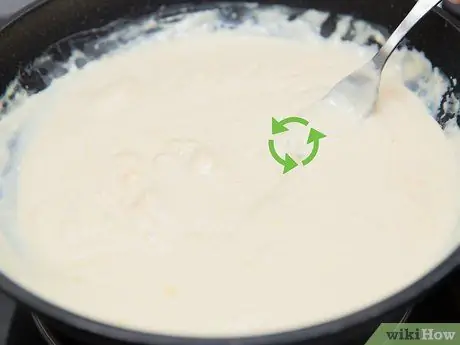 Step 7. Continue stirring until the cheese has melted completely
You should get a smooth, creamy sauce. Taste it and, if necessary, make any changes.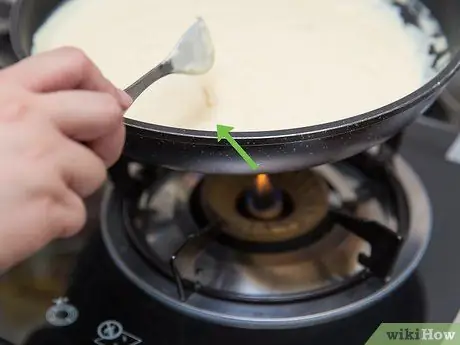 Step 8. Remove the sauce from the heat:
at this point you can mix it with the pasta.
Part 3 of 3: Composing the Plate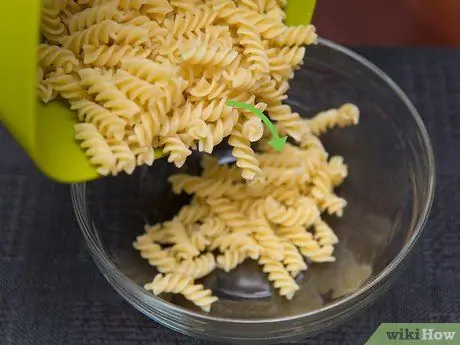 Step 1. Get a large bowl
Make sure it allows you to mix the pasta and sauce easily, avoiding dirtying the work surface. Put the pasta in the bowl.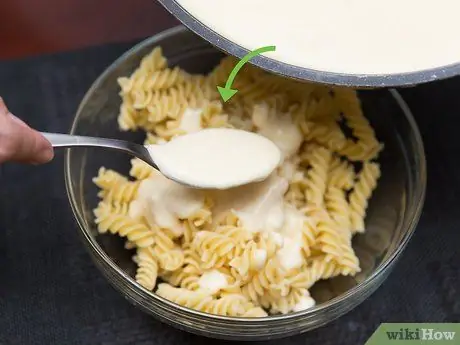 Step 2. Pour in half of the cheese sauce
The other half must be added later. It is easier to incorporate a small amount of sauce at a time.
Step 3. Stir with a ladle or spatula until the dough is evenly coated
Try to follow a circular motion, bringing the dough from the bottom to the surface of the bowl.
Step 4. Add the remaining sauce and continue stirring until the pasta is evenly coated
Make the same movement as before, moving the dough from the bottom to the top.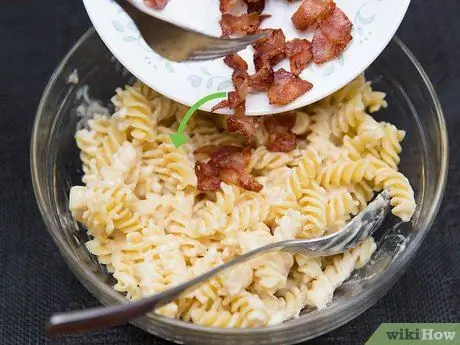 Step 5. Consider adding other ingredients to make the pasta even tastier
Remember that the additional ingredients should already be cooked and cut into bite-sized pieces. Here are some tasty ideas:
Bacon or ham;
Broccoli;
Cauliflower;
Mushrooms and onions;
Peas and carrots
Peppers.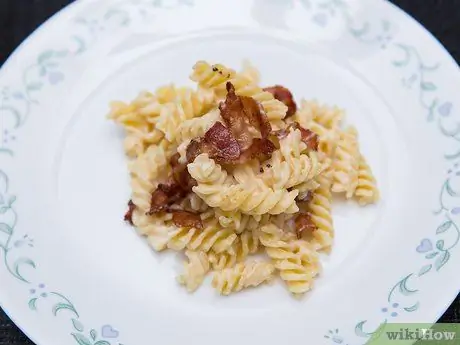 Step 6. Pasta with cheese should be served hot
If you wait, it will become greasy and soggy.
Advice
Reheat leftovers in the microwave.
To save time, make the sauce while you cook the pasta.
If the leftovers are too dry, add some milk before heating them.
Leftovers can be kept in the fridge for a week.